If the Los Angeles Lakers are able to add a difference-maker by Thursday's NBA trade deadline, it won't be Kyrie Irving.
The Brooklyn Nets brokered a trade involving LeBron James' former championship sidekick Sunday, but Irving wound up landing with the Dallas Mavericks.
Bleacher Report's Chris Haynes reported L.A. put both first-round picks it's allowed to trade (2027 and 2029) on the table, but Brooklyn still went with Dallas' offer instead.
NBA reporter Marc Stein relayed that "one of the presumed objectives" for Nets governor Joe Tsai was sending Irving somewhere other than "his preferred destination" of the Purple and Gold.
Can the Lakers still pivot toward Plan B targets, or was this a sign that opportunity may not knock in Hollywood? We'll tackle that topic and more with a round of deadline predictions for the Lakers.
Russell Westbrook Won't Be Traded
Layne Murdoch Jr./NBAE via Getty Images
As soon as word leaked of Irving's latest trade request, NBA photoshop enthusiasts surely had rendered more than a few images of Russell Westbrook in a Brooklyn uniform.
It's not that there was some major presumption that the Nets coveted Westbrook, but the simplest way for the Lakers to line up salaries in a major-money deal is by offloading his $47.1 million. Not to mention, a trade would mercifully end L.A.'s failed experiment with the mercurial point guard.
That's why the Lakers will surely keep shopping the 34-year-old ahead of Thursday's cut-off, but they should expect to hear crickets in return. He is simply nowhere near a $47.1 million player at this point, and the fact that his contract expires at season's end only cushions that financial blow so much.
When L.A. dangled Westbrook and the picks in front of Brooklyn, the Nets said they'd also need "all of their young players such as Austin Reaves and Max Christie and pick swaps" added to the exchange, per Shams Charania of The Athletic.
Brooklyn's verdict—a reasonable stance, if a touch greedy—effectively told the Lakers what they probably knew already: Westbrook is essentially untradeable at this price.
Patrick Beverley Will Be on the Move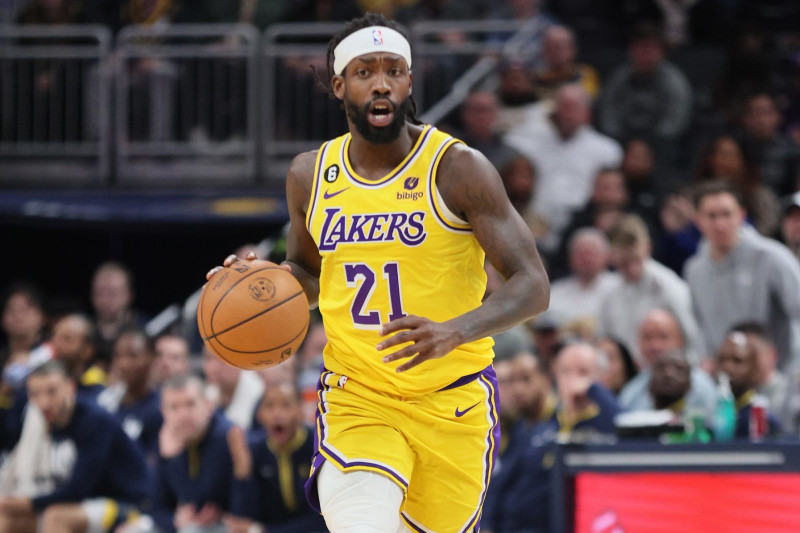 Andy Lyons/Getty Images
The Lakers answered a critical question during their Irving pursuit: They are, in fact, willing to part with both of their future firsts in hopes of improving their championship chances.
Now, they may have a small list of players they would actually give up those picks to get. And it's possible Irving is the only player on that list who will wind up swapping jerseys this trade season.
Still, the sentiment shows the organization's desire to improve the on-court product in hopes of constructing a contender on the fly. They should sniff out a win-now deal that strengthens this team for a playoff push, even if the prize isn't Irving and the cost isn't both first-round picks.
When—yes, I boldly chose that word over if—the Lakers eventually get a deal done, look for Patrick Beverley to be involved.
The 34-year-old is their only player not named Westbrook, LeBron James or Anthony Davis collecting an eight-figure salary, so he will surely be needed to make the math work in a trade for any player of consequence.
L.A. Will Add at Least One Shooter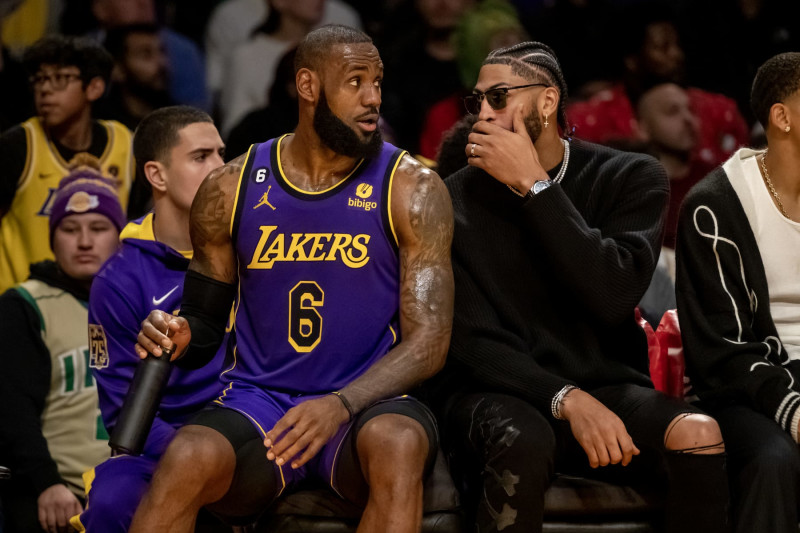 Gina Ferazzi / Los Angeles Times via Getty Images
Of all the confounding things about the make-up of this club, its general lack of shooting is the most puzzling.
James and Davis need breathing room to attack. If our prediction holds true and Westbrook sticks around past the deadline, he will, too.
The Lakers should have known this already, which only boggles the mind when considering how few three-point threats they have. They've had this season's fewest threes per game and are a bottom-10 offense in three-point attempts and percentage. This clearly can't continue to be the case if L.A. hopes to compete for anything this season.
Even in a market that's short on sellers, the Lakers will find a way to scratch their itch for spacers. My crystal ball can't quite pin down which shooter will be L.A.-bound, but players like Malik Beasley, Doug McDermott and the oft-discussed Buddy Hield should all fit both the team's needs and its trade budget.